Give your students a place where they feel at home.
Home sweet home. But as many hours are spent at school, it had better be a place where everyone feels comfortable and happy. We create a school environment that students are proud of and that even parents and visitors enjoy spending time in. Our murals give a serious boost to student and teacher morale. Whichever way you look at it, a colourful wall is more appealing than a bare one.
At every stage - from the first meeting to installation and production - we ensure that communication remains transparent and that you are kept informed on all fronts.
Make an appointment with our Mural Experts:
1 | Inspiration and focus.
An inspiring environment is not made up of empty, boring walls, but is colourful, unique and tells a story. Our murals leave a lasting impression. The kind that inspires young souls and teachers. The learning and development process in such an inspiring environment can even awaken the artists of tomorrow.
Unconsciously, mural art on a school campus takes away the stress and the daily pressure. You are absorbed by the sheer size and colour of the huge canvas, allowing your imagination to take its own course and create a moment or place outside our everyday existence. You feel fresh and ready to take on the day.
Murals are not only a way of brightening up a room or creating a pleasant environment. It is also a subtle but simple way of reinforcing the value of a school and communicating the vision and character of its educational purpose. What better way to show what you stand for and how you intend to achieve your goals than with a great piece of art?
Are you also going for great creative distinction?
Get inspired in advance by our portfolio.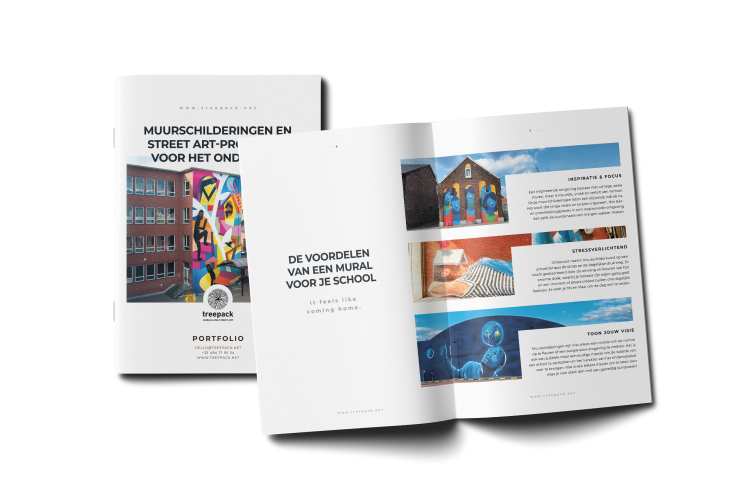 Discover in 5 steps how our murals are created
A mural makes an enormous impact.  
Our team of mural experts will guide you with proven techniques through the creation process of your future mural.
Click on the arrows to find out more
STEP 1: DISCOVERY PHASE
Together we discover the purpose of the artwork and listen carefully to your needs and wishes before drawing up a first proposal.  
STEP 2: CONCEPT PHASE
After confirming our proposal, we will hold a creative brainstorming session to prepare the concept for your mural. During this session, we will deepdive into your preferences in terms of style, themes and colours. Not sure what you want? Let the talent of our art directors surprise you!
STEP 3: CREATIVE PHASE
Our creative team will create a detailed design for your project. We start with a preliminary sketch, which we develop into a full blown design that will blow your mind.
Of course, you can also give our artists carte blanche and let them surprise you.
STEP 4: IMPLEMENTATION
The final design is fixed. Now it is time to carefully plan when your mural will be painted.
For optimum artwork durability, our team performs a technical analysis of the substrate to determine the appropriate materials. 
During the execution phase, we attach great importance to safety and cleanliness.
STEP 5: PR & PROMOTION
Are you just as proud of the result as we are? Then you'll want to share it with the world. You can also count on us for this step. Street art is extremely popular and can generate a lot of online and offline exposure.   
Our team of marketing specialists will help you promote the project with interesting and inspiring photos and videos. This way, we will make your mural the talk of the town.